There are few things more exciting than planning your bestie's bachelorette party. This event signifies a turning point in a woman's life where she goes from one to wed. But, costs can easily get out of hand without a little proper penny pincher planning preceding the party.
Phillips Fairy Tale Weddings can help you plan a dream wedding that fits your personality, style, and budget. Request a call today!
Destination celebration
Out-of-town bachelorette parties are becoming increasingly popular thanks to the internet, where low airfare and accommodations abound. According to Huffington Post, the top three best bachelorette party destinations are Cabo San Lucas, Mexico; Denver, Colorado; and Dallas, Texas. These three cities ranked supreme for being low cost – and relatively safe – party scenes. 
If you want to plan a destination party, begin making arrangements at least 3 ½ months in advance, when airfare is the cheapest. When you find a hotel you like, call and speak with the reservation office. They will often offer a discount for booking multiple rooms at once. This is also the best way to ensure that you and your crew will be quartered in close proximity to one another. Call the local schools in the area and ask if any are doing any coupon book fundraisers. This is an excellent way to save money on food and fun while also supporting a great cause. Groupon is another money saving tool and offers both discounts on attractions and cheap last-minute getaways if you don't have time to plan.
Lively and local
If long-distance travel is out of the question, you can rent a home for a weekend and split the cost with other guests. Take a good look around your area for inspiration and consider a vacation home rental. 
Everyone has that homebody friend who would rather stick to her PJs than party. If you're planning a get together even closer to home, nothing beats a good game night. A few bottles of wine and some adult games, such as Cards Against Humanity, will make for a memorable evening that will trump even the best GNO. Likewise, you can stick with bridal-themed games like teaming up to see who can make the best toilet paper wedding dress. You can save on party supplies when you shop at big-box retailers like Kohls and Target, and when you use Kohls coupons and discount codes, you can find additional discounts. Inexpensive party foods include cheese and crackers, fruit kebabs, and pulled pork and potato chips. Check out HGTV's list of 25 budget-friendly party foods for more inspiration.
Dress your best
You don't have to have matching outfits for every member of the bridal party, but it's a fun way to show your solidarity. And you can coordinate your couture without spending a fortune. Most department stores offer a selection of inexpensive tees and tanks that you can customize yourself with fabric paint, stencils, and iron-on designs. Michaels, a nationwide craft retailer with more than 1,200 stores throughout the United States and Canada, offers a number of online tutorials and a respectable selection of adult T-shirts for pennies on the dollar compared to high-end boutiques.
If your group still wants to add some glamour, consider having DIY makeovers before everyone hits the town, with the bride getting first dibs. Whether you stay classic or go for something a bit more over-the-top, opt for inexpensive beauty items like glitter makeup, highlighter and false eyelashes to add some va-va-voom to everyone's look without spending a fortune

Most importantly, have fun, bring a camera, and enjoy your friend's last moments of singlehood.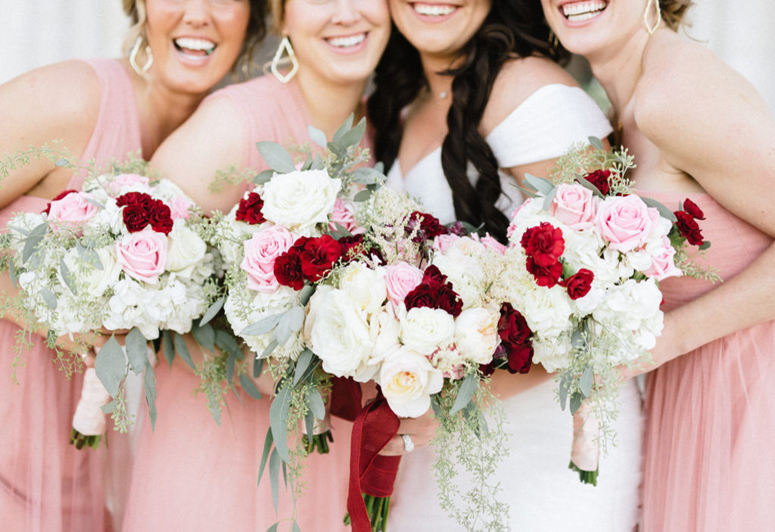 Image via Pixabay