The wedding cocktail hour is meant to provide a break between the ceremony and the rest of the reception. This gives you and your groom some time to either go off by yourselves. You can also have photos taken, or mingle with your guests. It gives your guests time to mingle and chat before dinner. Most importantly, it gives your caterer and entertainment time to set up.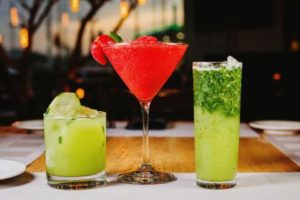 So, the wedding cocktail hour is especially important if you're having your ceremony and reception in the same room. You'll need time for someone to take down the chairs from the ceremony. They can now set up the tables for dinner, as well as set up the bandstand or DJ booth. You'll need to have some place else to move all the guests for the hour. This is something to talk to the venue about. Most places have a nice hallway or other room that can be used. An exception to this would be if you're not doing any change of set up between the wedding ceremony and the reception.
One idea is to have one "event." Instead of having people come in, sit down and wait for the wedding to start. You and your groom can meet the guests. At this time, everyone has a drink and mingles, music plays and then about an hour into it, you hold your ceremony with your friends standing around you in a circle.
After the ceremony
After the ceremony, the party continues, with dinner served. This can actually be quite elegant and sophisticated. To make this work, plan on keeping the guest list small and the ceremony short. If you like this idea, you'll need to make sure that all your vendors understand that the plan is for things to move seamlessly from ceremony to reception. With no break, they will need to be completely set up at least an hour before the start of the party.
Planning your wedding can be fun. Brides nationwide trust Phillips Fairy Tale Weddings to plan their festivities. We offer a wide selection of wedding and bridal services featuring wedding planners, photographers, videographers, officiants, DJ's, cake designers, transportation and more. Our friendly team has everything you need to host an amazing wedding. Call (833) 432-4798 or select a location near you for more information.