Renting a wedding tent can turn any backyard, park, or beach in to a magical wedding venue. But renting a wedding tent for your wedding can be frustrating. It seems like it should be so simple, but somehow it's always more complicated than you think! We break it down in to four easy steps for you.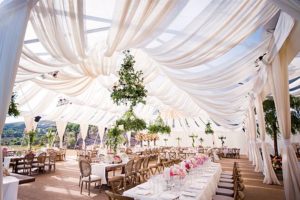 1. Know your terms
Do you want a tent, that is a structure with a center pole, walls, a door, and possibly windows or do you want a canopy, that is a structure with side poles, and no wall? A tent gives you a higher ceiling and more protection from the elements than a canopy. A tent can also has more flexibility in terms of heating, design, and decoration. But, if a canopy is all you need, it's a less expensive option, although canopies can also give a luxurious feeling, as in the photo below.
2. Set your Budget
This is obviously an important step in any wedding decision, but even more so with tent rental. There are so many different options, and so many elements that you may not have thought about. If your entire wedding reception is going to take place in a tent, you'll need flooring, including a dance floor. Do you need heat? Electricity for the band or DJ? Do you want separate rooms so that some guests can indulge in cigars? Checking out the two tents below will show you just how different tents can be.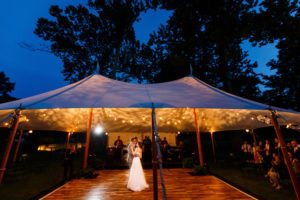 Yes, this is also a wedding tent.
3. Check on permits
In most areas, in order to set up even a temporary structure such as a tent or canopy, you will need a permit. This may even be true in order to set up a tent in your own backyard. If you're working with a wedding planner, or a reputable tent company, knowing the laws about permits and arranging for permits should be something they can handle. Make sure to ask them about this before making a decision.
4. Find a reputable tent company
Obviously, this is where we can help. Check out the tent rental companies available through Phillips Fairy Tale Weddings. As with any wedding vendor, make sure to ask for references. With a tent rental company you'll also want to ask about the set up process and make sure it's clear when your wedding starts and ends, and when the tent will be constructed. Ask about transportation costs and insurance as well as what weather the tent can withstand.
There, that wasn't so hard, was it?
Planning your wedding can be fun. Brides nationwide trust Phillips Fairy Tale Weddings to plan their festivities. We offer a wide selection of wedding and bridal services featuring wedding planners, photographers, videographers, officiants, DJ's, cake designers, transportation and more. Our friendly team has everything you need to host an amazing wedding. Call (833) 432-4798 or select a location near you for more information.