Invited to an Indian wedding? You're in for a treat. But first, You probably have a lot of questions about what to expect.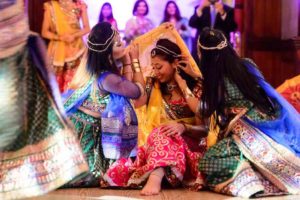 The first thing to realize is that India is a big country with a lot of people. There are three major religions in India (Christian, Hindu, Islam) and several religions with smaller numbers including Sikhism, Buddhism, and Zoroastrianism. There are also several geographic regions each with their own traditions, food, and music. So there's no one thing known as an "Indian wedding."
Susan Leon's Bollywood Strings Quartet plays a lot of different kinds of Indian weddings. As Leon says, "It is very important to find out what county and territory the wedding guests are from because each area has its own culture, language, movies, and song preferences."
Many of the traditions that we think of as belonging to an "Indian Wedding" are actually Hindu traditions.
Some of these traditions include:
Several Days of Ceremony
A traditional Hindu wedding takes about three days. As a guest, you may be invited to some, or all, of the days.
The baraat, or groom's procession
The groom arrives on a decorated white horse while guests and his friends dance around him. There is often a lot of music in these processionals including drums and DJs. GigMasters members Michael Lancaster and Kim Montgomery Johnson have recently told us that bagpipers are a surprisingly popular choice for Baraat musicians. The pipers often play songs such as Bonny Dundee that you might expect at a Scottish wedding.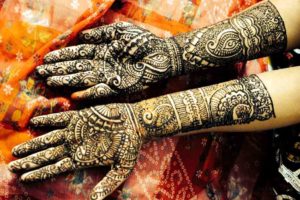 Mendhi
The Mendhi ceremony typically takes place on the second day of the wedding. During the Mendhi the bride, her female friends and relatives will have intricate henna patterns drawn on their hands and feet.
Sangeet
The Sangeet is similar to a rehearsal dinner and is a time for the guests to meet each other before the wedding ceremony. Entertainment, including having dances performed, is common at a sangeet.
The Ceremonies
In many mixed weddings between Christians and Jews, the couple will combine both traditions into one ceremony. However, in many weddings where one participant is Hindu and the other Christian or Jewish the couple will have two separate wedding ceremonies on the same day, including a change of clothing in between. These weddings are often known as fusion weddings.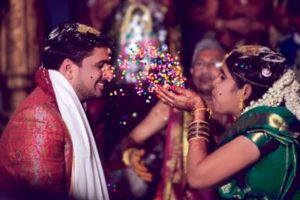 Lots of guests
Indian weddings are known for their large guest lists. Not being invited to even a distant family member's wedding can be seen as an insult in some cultures. The large number of guests results in a lot of food, a lot of dancing, and a lot of fun.
Indian dances and Bollywood style dances are common at Indian weddings, but other more western dancing is also popular.
Because Indian weddings are so complex, many couples choose to use a wedding planner or event design service. If you're planning your own Indian wedding you may want to ask your planner to create a handbook or notes for your guests.
Planning your wedding can be fun. Brides nationwide trust Phillips Fairy Tale Weddings to plan their festivities. We offer a wide selection of wedding and bridal services featuring wedding planners, photographers, videographers, officiants, DJ's, cake designers, transportation and more. Our friendly team has everything you need to host an amazing wedding. Call (833) 432-4798 or select a location near you for more information.