Looking For The Best Wedding Officiants In Houston, TX?
Say goodbye to the overwhelming process of planning your most special day -- the best wedding officiants in Houston can help you plan the fairy tale wedding ceremony you've been dreaming of!
We will deliver a customized list of of options, including detailed costs, and why we think it's a great choice given what you're looking for.
Officiants: From $199.00
Confirm Your Timeline
We'll create an itinerary and assist with the entire wedding ceremony.
Vendor Coordination
We'll connect you with an Officiant that will coordinate the ceremony you desire.
Enjoy Your Big Day
Our on-site team will ensure the Officiant arrives and is set up and ready to highlight every moment according to your pre-planned specifications.
Officiants | Advice & Ideas
Decide What Kind of Ceremony You Want
Do you want a ceremony that's traditional or unique? By the book or personalized? Religious or secular? Whatever you want, there's probably someone out there who offers it; it's really just a matter of knowing what that is.
See How Personal The Officiant Will Make The Ceremony
Including personal details within the ceremony is a great way to give the effect that the officiant has known the couple for longer than they actually have. The officiant may look to include brief stories of the couple that the guests may find humorous.
Ask How Much The Officiant Charges and How They Base Their Cost
Officiant's rates will likely be based on the date, time of day, and how far they have to travel. Some officiants may charge extra for additional ceremonies like unity candles or sand ceremonies. It's important to understand all of the costs upfront.
FAQ about hiring Wedding Officiants in Houston, TX
About Wedding Officiants
Hiring the right wedding officiant is important to create a smooth, beautiful wedding ceremony on your special day. Whether you would like a wedding officiant to provide input on vows or Bible verses or provide premarital counseling, Phillips Fairy Tale Weddings will connect you with a local wedding officiant who will help to make your wedding day as special as you've always hoped it would be. 
Here's some helpful tips you can keep in mind while hiring a wedding officiant. You should find a wedding officiant who has similar religious beliefs as you and your future spouse. You should also make sure that the officiant you hire is someone that you feel comfortable being around. After all, you will be spending one of the most important days of your life with them! Lastly, consider what your budget is. Wedding officiants fees can range widely. Follow these tips, and you'll be well on your way to making your "I do's" official!
What costs are associated with hiring a wedding officiant in Texas?
The national average cost for a wedding officiant is $200 – $300.
The type and length of ceremony, travel, and premarital counseling all affect the cost of a wedding officiant.
Whether you decide to blow it out with a big wedding or elope with just the two of you at city hall or the county courthouse, your nuptials should be one of the most special days of your life. Hiring the perfect wedding officiant will be the cherry on top of a cherished memory, so let's break down exactly what you need to find the best match.
Officiating a Wedding
Wedding officiants are ordained members of a religious organization or civil officiants authorized by the court or, increasingly, by an online source to legally marry a couple. Wedding officiants can be found from a wide range of backgrounds including Christian, Catholic, Jewish, Muslim, Buddhist, non-denominational, interfaith or nonreligious. Officiants perform the ceremony and ensure you and your partner are married under law. They take care of structuring the ceremony and assisting with rehearsals if requested.
What Affects the Cost of a Wedding Officiant?
The type and length of the ceremony, travel, guest count, wedding ceremony rehearsal, and add-ons can all affect wedding officiant cost. At its simplest, a wedding ceremony includes the signing of the marriage certificate as well as an exchange of vows. Many officiants refer to this as an elopement or a basic package.
Expanding the ceremony to include religious or symbolic rituals, readings or other elements may affect the cost of the service.
Type of ceremony
Costs vary greatly depending on the type of ceremony. A simpler event, such as an elopement, will cost less than a larger wedding ceremony. Officiants frequently perform these types of weddings:
Traditional wedding
Commitment ceremony
Vow renewal
Elopement
Premarital counseling
Many wedding officiants offer premarital counseling to couples and recommend it particularly when the couple being married is interfaith. This service adds to the overall costs, but it offers an opportunity to save when purchased from the person conducting the ceremony and bundled into one cost.
Wedding rehearsal
Attendance at the wedding rehearsal is not always included in the cost of the officiating fees. Ask the officiant whether their participation in the wedding rehearsal will incur additional charges.
Guest count
Larger weddings often mean higher fees. Smaller, more intimate weddings or an elopement may reduce the cost of the officiant's services.
Customized ceremony
Customization can increase costs. Many officiants offer a standard ceremony template. At the pre-wedding meeting, the officiant will ask whether the couple plans to write their own vows and how much input they have about the rest of the wording and flow of the ceremony. Additional planning meetings and extra communication can add up to a higher overall cost.
Travel
Travel to and from rehearsal and ceremony sites may affect the cost of the service. Finding an officiant in the same city or town may eliminate any applicable travel costs.
Length of ceremony
Ceremonies can be short and sweet or expansive and all-encompassing. Typically, the longer the ceremony, the higher the officiant fee.
Add-ons
Sound systems, wireless microphones, and videography services are add-ons that some officiants offer. If you want these extras, it will also increase the overall cost.
(Service options subject to availability. Offer may not be available in all states)
Want to see more? Follow us on Facebook and Instagram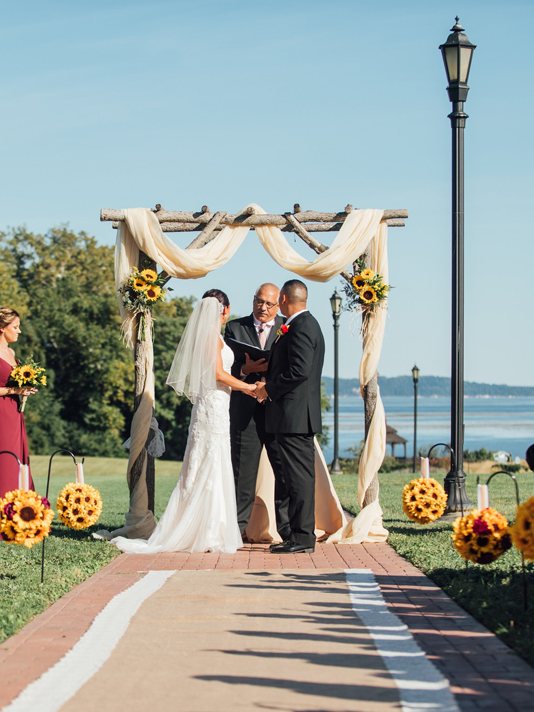 What areas near Houston, TX do you serve?
We serve Harris County, Galveston County, Brazoria County, Fort Bend County, Waller County, Montgomery County, Liberty County and Chambers County. Please note that these wedding officiants in Houston may also travel to West University Place, Galena Park, Hunters Creek Village, Piney Point Village, Bunker Hill Village, Channelview, North Houston, Alief, Jersey Village, Sheldon, Meadows Place, Humble, Fresno, Arcola, Barker, Webster, Highlands, Crosby, Nassau Bay, Thompsons, El Lago, Cypress, Baytown, Pasadena, Tomball, The Woodlands, Sugarland, Katy, League City, Alvin, Spring and Kemah.
Click map to view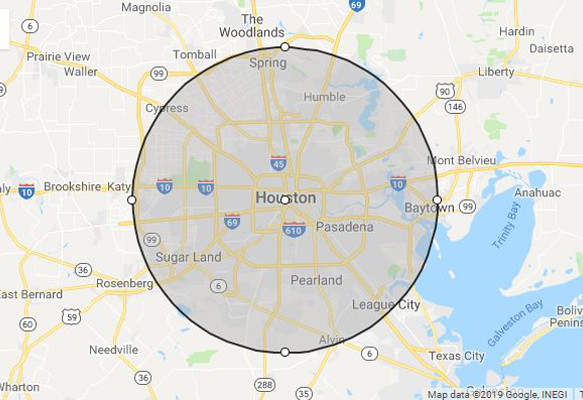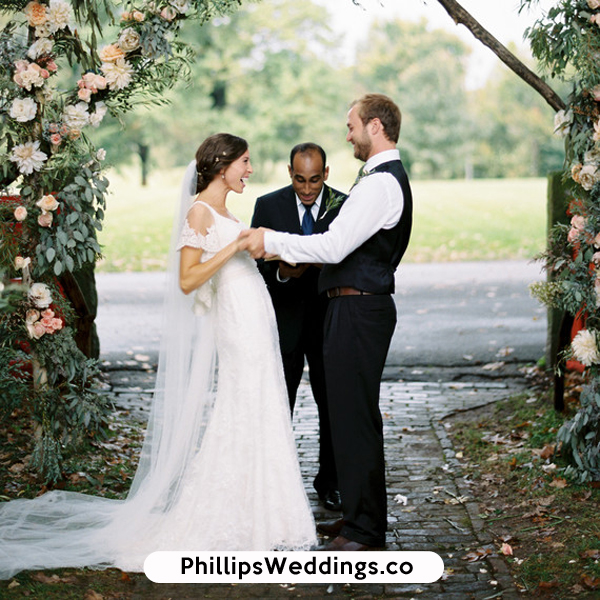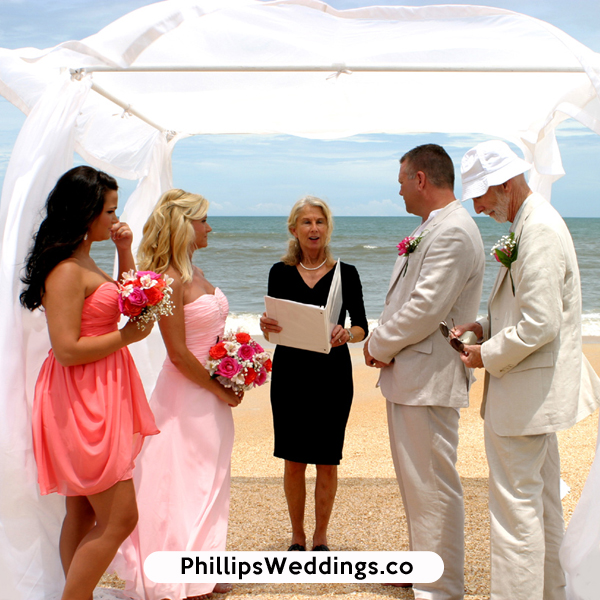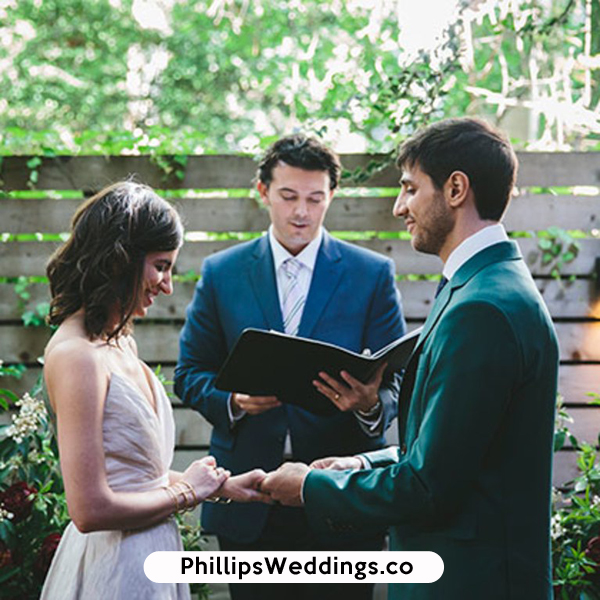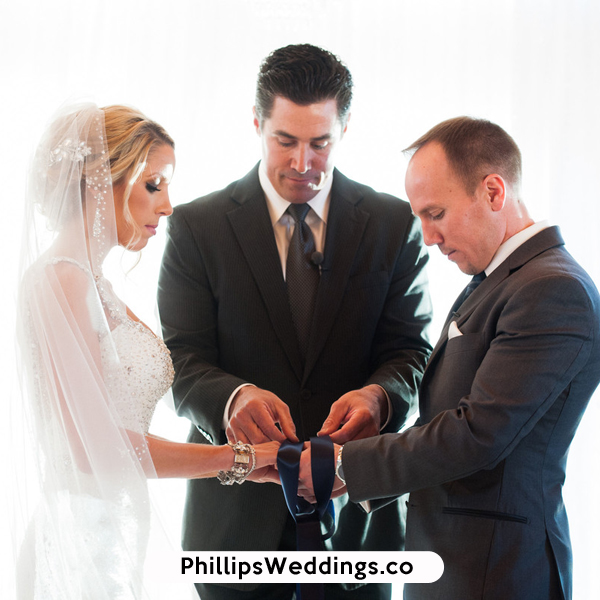 Phillips Fairy Tale Weddings | Houston, TX
---
You've booked the band, selected your venue, enlisted a wedding planner, but don't forget about the one person ordained to officiate your vows! You can book the best Wedding Officiants in Houston, TX securely with Phillips Fairy Tale Weddings today.
Please note these Wedding Officiants will also travel to VA Hospital, Bellaire, Galena Park, Alief, South Houston, North Houston, Stafford, Missouri City, Fresno, Sugar Land, Pasadena, Pearland, Channelview, Barker, Deer Park, Richmond, Humble, Manvel, Friendswood, Highlands, Cypress, Crosby, Webster, Thompsons, Kingwood, Katy, Spring, Porter, Booth, La Porte
Are you a wedding officiant looking to book more events? Get more wedding officiant events today.